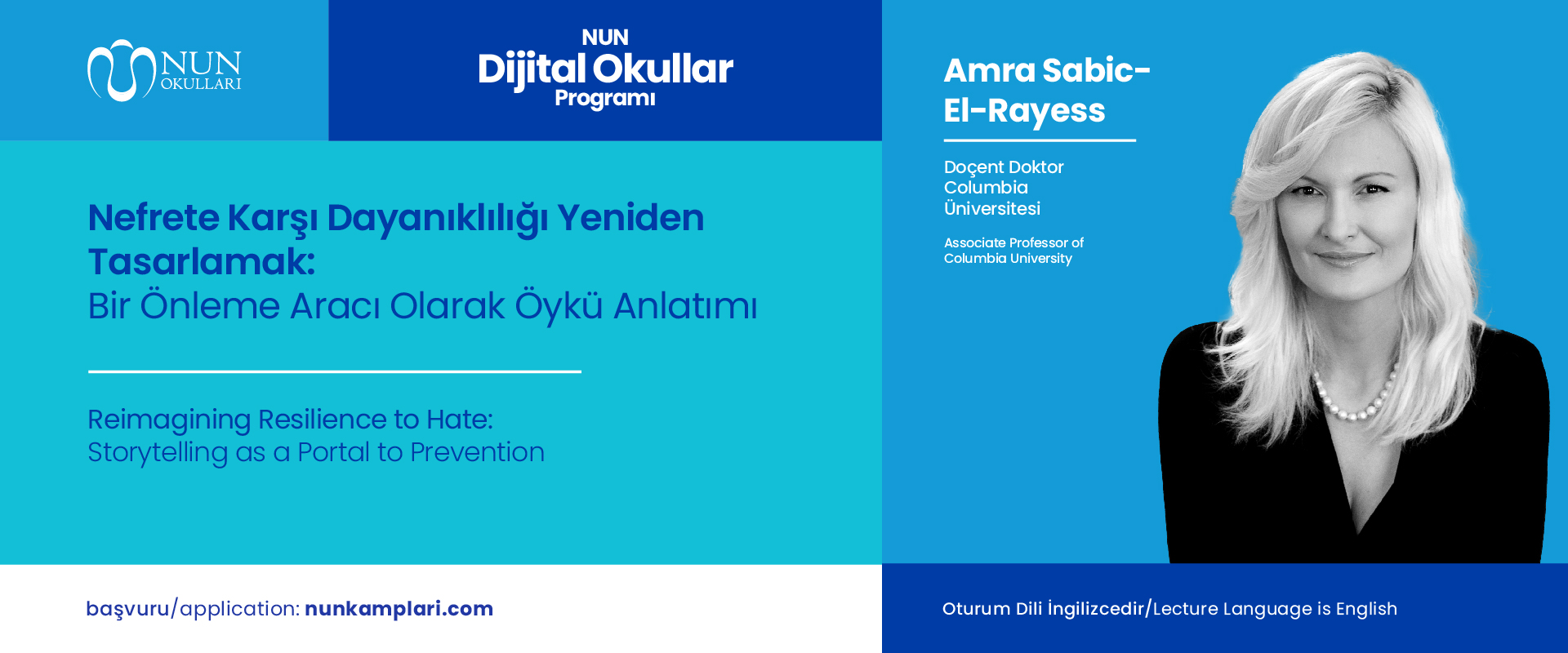 Reimagining Resilience to Hate: Storytelling as a Portal to Prevention
Lecturer: Amra Sabic-El-Rayess

Working Place - Position:
    1. Associate Professor at Columbia University
Country:  The United States
Biography: Amra Sabic-El-Rayess is Associate Professor at Teachers College, Columbia University. Dr. Sabic-El-Rayess, mixed methods in education, quantitative and qualitative methodologies, teaching quality, development, inclusion, radicalization, Islam, othering, marginalization, social transformation, social fragmentation, social norm formation, social mobility, higher education policy, transitional justice She has done research and publications, teaching on various topics such as women's financial inclusion and corruption. Dr. Sabic-El-Rayess's latest work on radicalization and building resilience against hatred, marginalization and exclusion has received significant international attention. Dr. Sabic-El-Rayess has given 36 invited conferences in the USA, South Korea, Belgium, Denmark, Sweden, Australia, Germany, Austria, Indonesia, Jordan, Turkey, Bosnia and Herzegovina, Italy, United Kingdom and India in recent months.

More than twenty-five years ago, Dr. Sabic-El-Rayess first taught as a teenager during the Bosnian Genocide. Her experience of being the object of hatred and ethnic persecution enabled her to learn about building resilience to marginalization and extremism through education. He received the 2021 Finalist Medal for Excellence in Young Adult Nonfiction from the American Library Association, and his work exploring resilience to exclusion, marginalization, and hatred was recognized as Best Book by the School Library Journal, Malala Fund, Capitol Choices, and Children's Literature Center. Dr. Sabic-El-Rayess earned her PhD in Comparative and International Education in 2012 with a major in Economics from Columbia University. In her doctoral research, she used mixed methods to examine benevolence and corruption in education and provided empirical evidence of how such phenomena deserve social mobility and trigger displacement in education. Dr. Sabic-El-Rayess holds a MA in Philosophy (2010) from Columbia University's School of Education and a MA in Economic and Political Development with a Persian Gulf specialization from Columbia University's School of International and Public Affairs (2004). In addition, he holds a BA in Economics (2000) from Brown University. He is the recipient of many awards, including the Smith Richardson Foundation, the US Department of State, the Woodrow Wilson Center for International Scientists and the Kennan Institute, the International Board for Research and Exchange, the Harriman Institute for Russian, Eurasian and Eastern European Studies, and others.
Ders Alanı: Digital Cultural Awareness and Well-being School
Dersin Adı: Sustainable Living with Biotechnology
Content: In this session, Dr. Sabic-El-Rayess will introduce her novel model of radicalization, which emerged from empirical research with formerly radicalised persons. The key concept at the heart of this model is "Educational Displacment." The lecture will involve a walk-through of various crucial steps on the pathway to radicalization outlined in this model. Coupled with this focus on theory, Dr. Sabic-El-Rayess will offer historical and socio-cultural context, as a survivor of genocide in Bosnia, from her highly acclaimed memoir: The Cat I Never Named. In addition, Dr. Sabic-El-Rayess may read out a selected passage from the book to focus on a specific moment and reflect on it with the audience.
Language: English
Certificate: At the end of the training, the certificate of success approved by NUN Schools will be sent to the participants by e-mail.

Program Price: 200 ₺ (VAT Includes)
*The fee for each module is 200 TL. By adding it to your cart, you can make your payment with your credit card.
You can view frequently asked questions here.